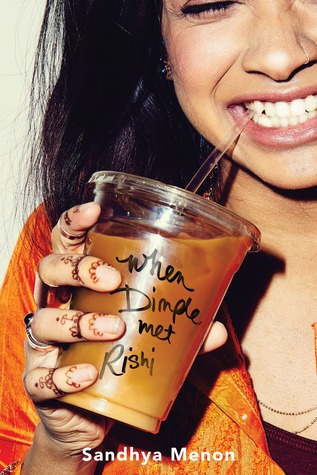 First Lines: Dimple couldn't stop smiling.  It was like two invisible puppeteers, standing stage left and stage right, were yanking on strings to lift up the corners of her mouth.  Okay, or maybe something less creepy.
I really like seeing diversity in books.  I like being exposed to other cultures.  So a couple of years ago when I first heard about this, I made sure it put it on my to-read list.
Dimple has her life figured out.  Go to college, become a web/app designer, maybe get married after she has a career.  Only, her mother wants Dimple to find her "Ideal Indian Husband" like now.  Dimple's only 18–there's time for that later!  Rishi is a hopeless romantic who dreams of the day he'll meet his soulmate.  So when his parents tell him that his future wife is attending a summer program for web development, he signs up.  The only problem is he'll need to woo her, but he's completely game for that.  Rishi loves his culture's traditions and the fact that his parents have chosen this girl for him as a good match.  So what happens when these two personalities meet?
I thought the storyline was cute. It's pretty much what you expect: a cute YA love story that follows the plot structure of most romantic comedies. It doesn't bring a whole lot that's new to the game except Indian culture and a healthy dose of feminism. And a little about how racism impacts Indians as well, but that's only in a couple of scenes.
I liked the characters, though the seemed fairly static. Dimple can be sassy at times, but it's the quieter Rishi who really struck me. Rishi may have seemed like the less venomous of the two, but if you get under Rishi's skin…look out. And I thought that was a really cool quality to convey about a character who was normally so sweet and sensitive.
The one fairly major drawback this story had was that it strayed away from the original plot. Dimple is at Insomnia Con, a 6 week program where soon-to-be-college-freshmen compete to create a new app that will be developed further into an actual app on the market. Dimple is incredibly excited about this at the beginning of the book and it's all she talks about. But by the middle of the book, we're basically never hearing about the app or the coding she proclaims to love so much. I'm not sure why this was, but I was sad to have gotten away from that. I think girls need more role models like Dimple, who are into computer science and coding, and it felt like the book fell a little short on that front.
If we're going to compare this to a movie, it's pretty much When Harry Met Sally, which happens to be one of my favorites.  And while this book wasn't quite one of my favorites, I enjoyed reading it.