Today, we're going to be completely honest with ourselves.
I've been keeping track of my reading list religiously on Goodreads since June of 2008 (that's an entire decade, folks).  In that time period, I've read 1,436 books (at the time of writing this, anyway), which equals out to about 463,825 pages (excluding a large number of times I've reread books that Goodreads didn't start tracking until lately).
So yeah, it's more or less conceivable that I've forgotten a few books along the way that I've read.  Generally speaking, though, I tend to at least remember something of every book I've read.  By no stretch of the imagination am I saying that have a mind like a steel trap, but there's usually something.  A scene, a feeling I associated with the book, something.
I thought it would be interesting today to take a look back at those books that, for one reason or another, I absolutely 100% have no recollection of.  It's so bad that I may have even looked at this book on the library shelf and went to pick it up again because I didn't remember anything.
Top Ten Books I've Completely Forgotten
1. Lucky in Love by Kasie West
This is the book that gave me the inspiration for this post.  Apparently I read this and didn't like it, since I gave it a 2 star rating.  I saw this on another site and went to Goodreads–only to discover I'd already read it.  Things that make you go hmmm….  (I feel especially bad/old since I just read this like 2 years ago and nearly every other book on this list is from at least 6 years ago, if not longer.)
2. Things Fall Apart by Chinua Achebe
I know I read this in college, but I remember nothing.  (The odds are good that since it was assigned, I probably read it quickly and moved on.)  When it showed up on the Great American Read list, it sort of tickled my brain that I knew something about it, but that was it.
3. Ever by Gail Carson Levine
Y'all, I got nothing.  It certainly looks like something I would have read at 17 (which was roughly when I did read it), but beyond that…nada.
4. The Devouring by Simon Holt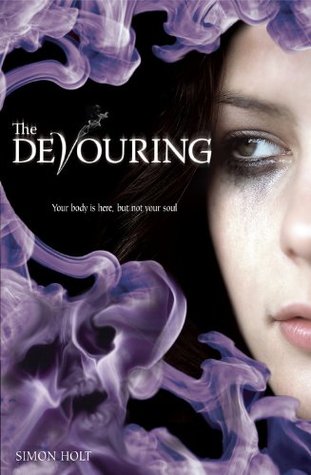 I have a vague sort of uneasy feeling associated with this, but I can't tell if it's the cover or if the book creeped me out.  But beyond that weird feeling, I couldn't tell you anything about the book.
5. Another Kind of Cowboy by Susan Juby
I started rereading the description of this one and it jogged nothing.  As someone who grew up listening to country music and wanted to be a country girl despite her suburban roots, I knew why I was drawn to this.  But maybe it wasn't good enough to remember?
6. The Fountainhead by Ayn Rand
Now, I know this was a homework assignment.  My senior year of high school had two Ayn Rand novels to read–this and Atlas Shrugged.  (I recommend neither.)  Seeing the cover of this one sort of jogged something ("Hey, isn't this about an architect or something?") but not much else.  Actually the more I sit her typing about it, the more I'm starting to remember.  ABORT MISSION!  ABORT MISSION!  PURGE THE FILES!
7. Once Was Lost by Sara Zarr
If someone showed me this cover and asked me if I've read this book, I'm about 99% sure I'd say no.  It didn't even look familiar as I went through, much less did the description throw up any new information.  But at one point, I must have read it.
8. Blood and Chocolate by Annette Curtis Klause
The only reason I know this book is about werewolves is because I just saw it in the description.  When I first saw the cover again, my guess was vampires.  Shows you how much I remember about this.
9. Tartuffe by Moliere
Ok, so like technically this is a play rather than a book.  But I don't remember a lick about it.  This was from a theatre class I took in college, I know that much.  But other plays we read in that class–A Doll's House, M. Butterfly, etc.–I remember.  I must really have not liked this one.
10. Possess by Gretchen McNeil
I recognize this cover in that vague kind of "Oh yes, I've seen this before" sort of way, but I know nothing about the book.  Something about demon possessions, but I only know that because I reread the description.  Oh, and the title.
What about you?  Do you completely forget entire books you've read as well?  Don't make me feel like I'm the only one here!  Leave a comment and we'll wallow together!