Hey everyone!  So I was trying to come up with a topic for this one and I figured some of you were heading back to school just like me.  (I just started my 5th year teaching!)  One way or another, I ended up on contemporary romances where seeming opposites fall in love in large part because of school.  Who doesn't love a back to school love story?  Because of their covers, I like to call this the Battle of the Near Make-Outs.
Let's dive in!  Please don't get lost in the chemistry.  (*ba-dum-chiss*  Get it??  Chemistry??  Oh, am I pushing the limits of your pun tolerance?  …I'll shut up now.)
(Fun Fact: these two books have exactly the same rating of 4.07 on Goodreads.  I just saw this.)
Perfect Chemistry by Simone Elkeles
VS.
Pushing the Limits by Katie McGarry
Perfect Chemistry
Synopsis: Perfect cheerleader Brittany Ellis's life begins to unravel the second she walks into chemistry on the first day of her senior year.  Her lab partner is Alex Fuentes, a gang member from the other side of town.  Alex took a bet that he could lure Brittany into his life, thinking nothing of it.  But the more he gets to know Brittany and sees she's a real person behind the "perfect" mask, the more he realizes taking that bet was probably the dumbest mistake of his life.
Pros:
I vastly enjoyed the multicultural aspect of this book.  Brittany is pretty typically white, I'll admit, so it's Alejandro (Alex) Fuentes who brings the color.  And I thought this book did a nice job of highlighting his culture and those difference between him and Brittany.
The emotions of this story are raw.  Both Brittany and Alex have their struggles that they desperately want to hide.  And having been a perfectionist like Brittany in school, I can attest to how realistic her struggles are.  (Having never been part of a gang, I can't speak for Alex's, but they certainly felt 100% real as I was reading.)
I liked that these two were so very different and yet they found common ground with each other.  There's just something about that trope that I keep coming back to.
The title is pun-tastic.  They meet in chemistry and they have perfect chemistry?  #LoveIt
Cons:
Like many romance stories where opposites attract, it plays into a number of cliches.  So there are moments of predictability.
It's been a while since I've last reread this, but there is the potential that pieces of the portrayal of Alex's Latino community may be…um, a little stereotypical now.  I'm just going off what I remember of the story (and who knows how accurate that truly is anymore), but I remember a scene or two that may not exactly be flattering.  And whether that was just Alex and his friends or could be read as Latinos as a whole, I don't remember.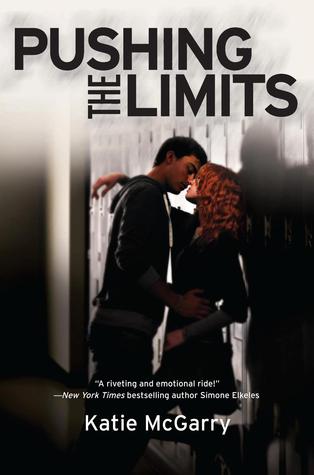 Pushing the Limits
Synopsis: No one knows what happened to Echo the night she went from popular girl to the freak with scars on her arms.  Even Echo doesn't completely remember–she just wants life to go back to normal.  But when the leather-wearing, girl-user Noah Hutchins takes an interest in Echo, her world shifts in ways she never imagined.  They should have nothing in common, and yet…
Pros:
The things that Noah and Echo go through are painfully real.  They go through things that teens are actually going through.  It's not sanitized–it shows you the bad and the ugly about life that many actually experience.
The characters are deeply flawed, but in a lovable way.  You realize very quickly that their flaws make them beautiful.  And they aren't interested in fixing those flaws so much as they are making life better for them.  It's a great philosophy to have.
Even minor characters feel completely fleshed out.  You kind of know what makes everyone tick, rather than just the biggest characters.  That kind of development is pretty rare.
More than just being romance, it also has a great amount of suspense and mystery.  You're going to get sucked in quickly.
Cons:
Ok, yes, being a romance book about two people who seemingly have nothing in common plays into a lot of your cliches.  I mean, it's going to happen.  There are parts that are going to be predictable.
There are times when this book really should be rated M for Mature.  I read this as 22 and even then, I had a hard time stomaching some of the action.  I'm not even talking sex (which isn't even in the book)–I'm talking abuse, violence, neglect, etc.  It's real, it's dark, and you kind of have to be in the right mood for it.
My Winner: Perfect Chemistry
Why?  I remember being blown away by this book in high school.  Like, to the point where I named my first Kindle Alejandro after Alex.  (That's not even a joke–I really did that.  I like to give my Kindles literary names.)  Having had the same personality type as Brittany, it was so easy for me to fall into her story.  And I really loved watching Alex turn from villain (you'll understand why when you know the terms of the bet) to hero was so endearing.  I just loved every minute of it.  Simone Elkeles has a way of writing simple, tender moments that feel so real.  Something as simple as holding hands feels like so much more.
As always, this is not to say that Pushing the Limits is not worth your time.  It's totally a great read.  But as one must have a winner, there must also be a loser.
What do you think?  Do you prefer one over the other?  Leave a comment below to share your thoughts!