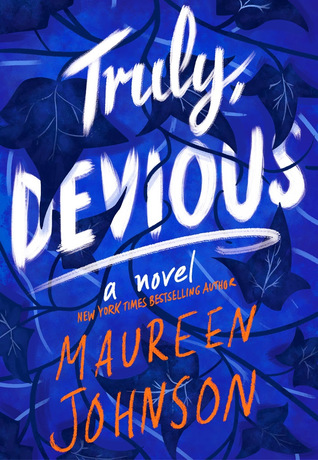 First Lines: Look! a riddle!  Time for fun!  Should we use a rope or gun?  Knives are sharp and gleam so pretty, Poison's slow, which is a pity.  Hanging's a ropy way to go, a broken head, a nasty fall, a car colliding with a wall.  Bombs make a very jolly noise.  Such ways to punish naughty boys!  What shall we use?  We can't decide.  Just like you cannot run or hide.
So I love Maureen Johnson as a person.  Her Twitter account is outrageously funny.  But this book really wasn't on my radar until I saw the hype it was getting.  I decided I probably had to read it, even though I feel like for the most part I've outgrown the mystery phase I went through in middle school.
Ellingham Academy is a famous private school in Vermont, where only the best and brightest artists and thinkers go.  It was a school started by Albert Ellingham, who wanted to make a place where learning was a game and students could focus on what interested them.  But shortly after the school opened, Ellingham's wife and daughter were kidnapped.  The only clue was a riddle detailing different ways to kill someone.  (See: first lines.)  It was signed Truly Devious, and this case became one of the most famous unsolved cases in America.  Enter Stevie Bell, a true-crime aficionado whose greatest dream is to solve the Ellingham case and become an FBI agent.  But coming to school at Ellingham is going to take up a lot of her time, especially as she gets to know her strange housemates: the welder, the writer, the artist, the actor, and the video game designer.  Everything changes the moment Truly Devious returns and murders a student.  It seems Truly Devious has returned from the grave and gotten away with murder.
As I expected, this book retained some of Johnson's quirkiness.  I like quirky, and it's just odd enough to bring some humor and levity to this murder mystery.  It's an incredibly clever story, modeled after the mysteries of Arthur Conan Doyle and Agatha Christie, just to name a few. Having been an avid Christie fan as a teen, I saw many parallels to those specifically.
Stevie is a wannabe FBI agent. She's obsessed with criminology, always reading about it and listening to podcasts and trying to solve cold cases. But it also means she's well aware of how investigations work and what she needs to look for as a detective. In fact, she has traits similar to Sherlock, able to make huge deductions about a person based on scraps of evidence (a tan, an expensive watch, etc.).  So it was fun to read about a teenager who knew exactly what do to, even though she's never actually dealt with a dead body before.
The story bounces between going back to 1936 when the Ellingham kidnappings happened and the present. Stevie's obsession with the kidnappings shows us all the evidence of the case so we can get a better idea of what happened. And in the present, when Truly Devious returns, we see that unfold as well.
The mysteries were very clever. There are a lot of riddles in this book, a lot of loose ends that you need to try to put together. And, because this is a trilogy, there are cliffhangers that leave you feeling pretty unsatisfied at the end. I was hoping for more than I got. But I did enjoy the ride, considering there were little things along the way that didn't feel right and then your instincts were proved right at the end.
There are quite a few characters that, because there are a lot of them, mostly come off feeling somewhat flat. But I enjoyed reading about them. Everyone who comes to Ellingham is quirky because they're supposed to be passionate and great at whatever their passions are. Stevie's is crime, but her roommates include a writer, a welder, a video game designer, an actor, and an artist. And every one of them is weird in their own rights. Some of them are likable because of it. Others are not, but that's also kind of the point.  They're being true to themselves.
I'm interested to see what the sequel brings. Hopefully I won't have lost the thread of this story by the time it comes out.