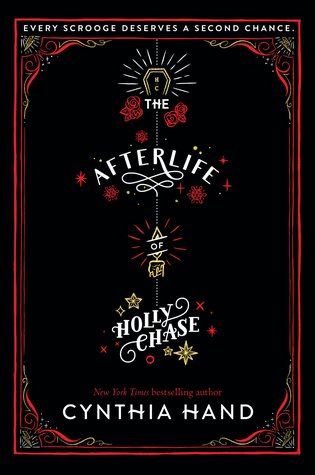 First Lines: The first thing you should probably know is that Yvonne Worthington Chase was dead.  It was all over the news when it happened, the entertainment shows, the newspapers and magazines, even the trashy tabloids.  A sudden tragedy–that's how the media described it, because she was only fortysomething when it happened, plus Yvonne was famous, so her death was considered a much bigger deal than an ordinary person's.
I was so excited to see this book come out.  1) Cynthia Hand has never steered me wrong before.  2) It was a Christmas story and I freaking love Christmas stories.  3) The main character shares my name.  I was stoked to read this.
On Christmas Eve five years ago, Holly Chase was visited by three ghosts who showed her how selfish and mean-spirited she was to those around her.  They tried to get her to change.  She didn't listen.  And then she died.  Now, as a ghost herself, she works as the Ghost of Christmas Past for Project Scrooge, a company that tries to reform one Scrooge-esque person each year.  Every year, it's the same thing–and old miser, a sob story, three ghosts, and a new outlook on life.  And it's been miserable for Holly.  But this year…things are about to change…
This book was absolutely wonderful.
A modern retelling/spin on A Christmas Carol, Holly Chase is a Scrooge. She only cares about herself and how many Instagram followers she has. It doesn't matter that she's mean to the help or that she blows off her dad all the time–it only matters that she looks good while doing it. And when three ghosts visit her on Christmas Eve…Holly doesn't learn her lesson. And dies months later. But that's not the end of her story. In fact, she now has to take the place of the Ghost of Christmas Past and try to help others who are just like her avoid her fate.
The ties to the original Dickens tale are very present but not Easter Eggs. Actually, they're a large part of the story. With every Scrooge they focus on, they try to find a way to make their story fit the Scrooge narrative–where's the Crachit? Where's Tiny Tim and Belle? I liked that it wasn't hidden but was actually woven creatively into the story.
Holly, as you would expect, starts off fairly unlikable. But after she becomes the Ghost of Christmas Past, she starts to change and she's more manageable. Even when she was being really mean, I still found that I understood her, and I think that's a sign of great writing.  You understand that a part of it is an act, something she's been taught to do rather than actually how she truly feels.
And the writing got so much better from there. Descriptive and subtle, it was the kind of book I didn't want to put down. I stayed up past my bedtime to finish it and didn't regret it. Yes, there are parts that are predictable, but I found myself making my predictions and then anxiously waiting to see if I was right. I was always excited to see what would happen next.
And the ending…keep some tissues handy is all I'll say. It was so so good and I spent so much time thinking about it even after I finished the book.
Read this. It's so worth it.