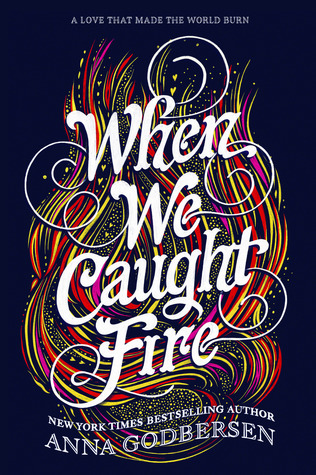 First Lines: By morning the city had fallen.  We had not seen the sky in a long time, even the sky was made of fire.  The State Street Bridge was impassable, they said.  The Rush Street Bridge, too.  The streets were littered with objects that had once seemed valuable enough to carry, but now lay abandoned.
Y'all, it's been a long time since I've been able to say this, but I got my hands on some ARCs!  I'm super excited to spend the next few months mixing them in with all the other books I have!  This one does not officially release until October 2, 2018 (so, you know, 1.5 more months).  I was interested to see what Anna Godbersen had in store for this historical fiction about the Great Chicago Fire.
It's 1871 and Emmeline Carter could just about be described as a Chicago Princess.  With her father's sudden wealth and her recent engagement to Chicago's most eligible bachelor, the world is all laid at Emmeline's feet.  But Emmeline can't stop thinking about the life she left behind in one of Chicago's poorer neighborhoods and her first love, Anders Magnuson.  Fiona Byrne, Emmeline's best friend, is thrilled with Emmeline's societal rise–especially because it means Fiona can pursue Anders herself.  But when Emmeline risks everything for a final fling with Anders, Fiona can't help but feel betrayed.  As summer turns to fall, friendships and hearts may just go up in flames.
When I was younger, Godbersen's The Luxe series was what got me interested in historical fiction. I will always have a soft spot for that series, which taught me so much.
I don't want to undersell this because it's actually a decent story, but I struggled at times.  It was just…sometimes it was too over-the-top.
The setting is really awesome. I loved that it was set in Chicago, a town that has a rich and unique history of its own. Chicago was a boom-town in the mid-1800s and it was full of immigrants looking for a better life. This blend of people brought an interesting quality to the story, especially given that it acknowledges the rampant prejudice also present at the time. (The Irish are the focus here, though admittedly the racism is not the story's focal point.)
Anyway, the history surrounding the Great Chicago Fire was fascinating, especially since I didn't know about the days leading up to it.
What could have used a little more work were the characters and the plot. Neither is inherently bad by any means, but they just weren't molded as well as they maybe could have been. The plot feels overly melodramatic, with everything feeling life-or-death, especially when it isn't actually. It subsequently makes the actual life-or-death events feel less dramatic, in a Boy-Who-Cried-Wolf kind of way. And the characters were just kind of ho-hum. It didn't feel like there was any real emphasis on getting to know them or feeling what they were feelings, especially when their feelings sometimes flipped like a switch. I wish there had been more to dive into their personalities.
There are some interesting surprises along the way, things to keep you guessing. It's worth checking out if you're a history buff (Godbersen also has a very interesting author's note at the end about her research), but be prepared that it's more about the teenage drama than the historical drama.